The Manchester Family Justice Center held their open house on 6/21/17 and has been actively serving clients in the greater Manchester area.  The team from the Strafford County Family Justice Center has worked closely with the Manchester Family Justice Center to make this center a reality for the State's largest City.  They can be contacted via their website and by calling 603.792.0917 or emailing.
Union Leader Articles
--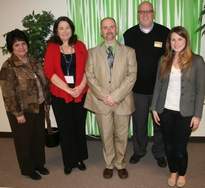 Strafford County Family Justice Center hosts Chamber of Commerce After Hours EventFrom left are Chamber President Laura Ring, former Family Justice Center Director Ann Sanok, SCFJC Advisory Council Chair Detective Bob Frechette, Chamber Board Chairman Mark Farrell of Laars Heating Systems, and former SCFJC Intake Coordinator Megan Gray.
http://www.fosters.com/apps/pbcs.dll/article?AID=/20140318/GJBUSINESS_01/140319403/0/SEARCH
 --
Candlelight vigil held for domestic violence victims (Nov. 2013)
Candlelight vigil held for domestic violence victims
By John Nolan
jnolan@fosters.com
Sunday, November 3, 2013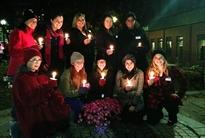 ROCHESTER — The Family Justice Center and A Safe Place held a Domestic Violence Candlelight Vigil on the Square, last Thursday evening.
"The candlelight vigil," said FJC Executive Director Ann Sanok, "is to help raise awareness to domestic violence and to help victims, survivors, and other community members have the opportunity to remember those who cannot stand with us."
During the event, which ran from 5:45 to 7 p.m., victims and survivors of domestic abuse had an opportunity to share their personal stories, the names of those who have lost their lives to domestic violence in New Hampshire in the past decade, were read out. Almost 40 people in New Hampshire, in the last decade, have lost their lives due to domestic violence, Sanok said.
"The intent is to create an intimate, quiet gathering to honor the victims of domestic violence homicide," said Sanok, who was holding a candle along with other FJC and A Safe Place staff members.
Over 40 people attended the vigil, including Rochester Mayor T.J. Jean, Rochester Police Chief Michael Allen and staff assistant to Congresswoman Carol Shea-Porter, Abby Sickles.
"On Oct. 1, I issued a proclamation to Ann Sanok proclaiming the month of October as Domestic Violence Awareness Month in the city of Rochester," said Mayor Jean.
"The city council has been very supportive of domestic violence assistance programs since the Strafford County Family Justice Center opened its doors. I feel it is important for domestic violence survivors, as well as the staff at the Family Justice Center, to know I support their worthy cause," the mayor said.
"The City Council recently provided the Family Justice Center with space at the Community Center at a rate of $1 per year to assist them in their mission. Domestic violence impacts so many within our community and having access to valuable support services locally is vital to helping individuals emerge from these awful situations," added the mayor.
Chief Allen said he echoed the importance of remembering the victims of domestic violence.
"We absolutely support the Family Justice Center and A Safe Place. Law enforcement is an integral part of addressing domestic violence in this community," he said. "This event raises awareness. It is important that we stand together to acknowledge domestic violence exists everywhere in New Hampshire and is unacceptable.
Hot chocolate was provided at the vigil to combat the chilly wind, and a resource table was available.
http://fdweb.sx.atl.publicus.com/apps/pbcs.dll/article?AID=/20131103/GJNEWS04/131109881/0/SEARCH
Strafford County Family Justice Center joins the Chamber (June 24, 2013)
http://bestreadguidenh.com/apps/pbcs.dll/article?AID=/20130624/GJBUSINESS_01/130629702/-1/FOSNEWS0314&template=PortsmouthRegion
Cocheco Quilt Guild donates quilts to the Family Justice Center (April 2013)
http://www.fosters.com/apps/pbcs.dll/article?AID=/20130411/GJCOMMUNITY_01/130419723/0/SEARCH
Family Justice Center Opens Full-time (May 2013)
http://www.fosters.com/apps/pbcs.dll/article?AID=/20130509/GJCOMMUNITY04/130509306/-1/rocnews1404
In Rochester: Shaheen pitches need to reauthorize Violence Against Women Act (April 2012)
http://www.bestreadguidenh.com/apps/pbcs.dll/article?AID=/20120424/GJNEWS_01/704249946/0/FOSNEWS04&template=SouthernMaineRegion
Family justice center in Rochester to be first of kind in state (Aug. 2011)
http://www.fosters.com/apps/pbcs.dll/article?AID=/20110806/GJNEWS_01/708069949/-1/FOSNEWS