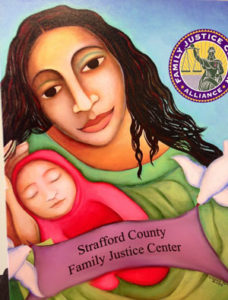 Purpose
To enable safety for every family by affirming the capacity of our community to end
abuse and violence.
Vision
The Strafford County Family Justice Center empowers people to end abuse and violence; building healthy, hopeful, peaceful lives through a safe, service focused environment. It is a movement that challenges, empowers and engages our community to replace abuse and violence both with dignity and respect.
Mission
Our mission is to seamlessly meet the physical, emotional and spiritual needs of people touched by abuse and violence by collaboratively integrating partners in a dynamic,
survivor-driven environment.
Values
We Believe:
Treating each individual with dignity and respect empowers people. Staying victim-focused and survivor-driven keeps us available and accessible to those who need help
Working collaboratively can foster the openness, teamwork and flexibility we need to effectively serve
Vibrant dialogue allows us to meet needs with compassionate action
A safe, fun, inviting environment allows people to find peace, hope, and healing